Yakult Kids Day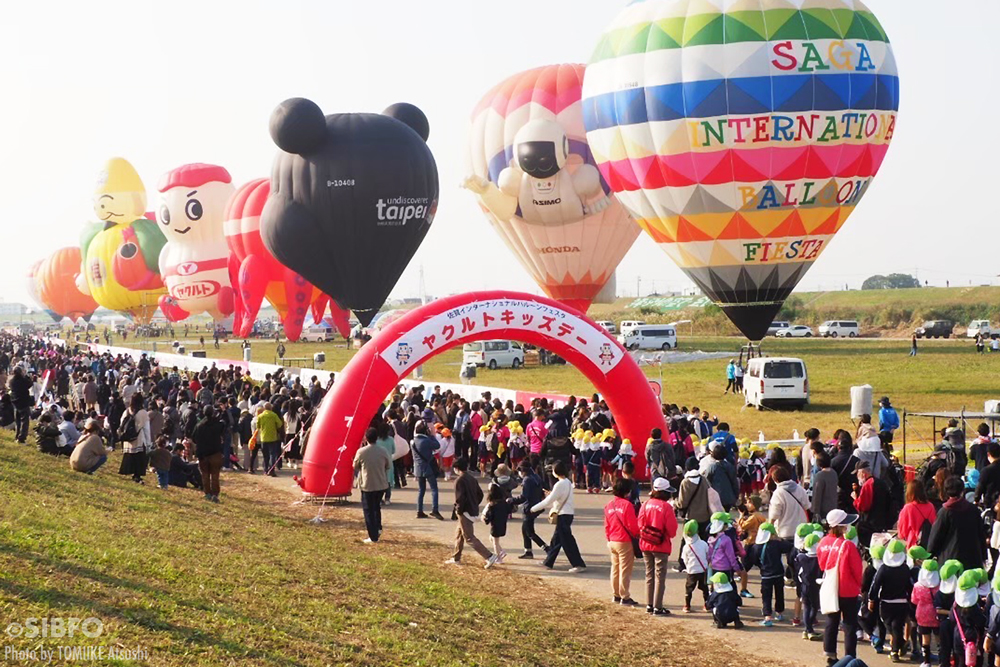 Yakult Kids Day
DATE :
November 2th (Thu.) , 2023
Overview
Kids Day provides children a fun opportunity to learn about hot air balloons through hands-on activities, touch the balloons, and even go inside of a balloon envelope.
During this time, if the weather and wind conditions are deemed favorable, guests participating in Kids Day may enter the Launch Site (Competition Area), where the balloons will be inflated and upright.
Main Schedule
1)Balloon Competition Flight (Around 6:45-9:00)
You can watch over 100 balloon pilots display their skill as they compete in the largest balloon competition in Asia!
2) Balloon Fantasia -Unique Balloons Meeting -(9:00-10:30)
The Balloon Fantasia is held during the Balloon Fiesta. During this event we invite you into the launch site, normally closed to the general public, where you can get up close and personal with shaped balloons made to look like animals, characters, and other charming shapes wildly popular with children (there are about 9 special shape balloons).
* Please be aware that guests may not be able to enter the launch site depending on weather and competition conditions.
3) Kid's Balloon School ~ Balloon Field (Former Headquarters Area) and Launch Site
At Balloon School, children can learn how balloons work and have fun touching and experiencing an actual balloon. We also plan to have an activity where children can go inside of the balloon envelope.
Participating in Yakult Kids Day
Kindergartens, preschools, and other such organizations who wish to participate in Kids Day must apply beforehand. Please contact us at the address below (see "Applications and Inquiries.")
Families participating in Kids Day individually do not need to apply, but please come to the fiesta grounds early if you are able.
Based on wind conditions and the state of the balloon competition, we may move the scheduled event time earlier or later. For example, In the case of high winds, we may inflate the balloons early, and end the "inside of a balloon" experience early. Also, if the launch site becomes too crowded, we may stop allowing entry into the launch site early. Any such scheduling changes must be made after considering a variety of factors on the day of the event. We ask for your understanding in advance.
Applications and Inquiries
Saga Hot Air Balloon World Championship Executive Committee
[TEL]0952-29-9000 [FAX]0952-26-6244
Request
Requests for Safety at the Launch Site in Events
VIDEO
The Video Channel by Saga International Balloon Fiesta Organization
Youtube SIBFO Channel (YouTube)
Japanese site
Last Modified: 2023.09.27