Requests for Safety at the Launch Site in Events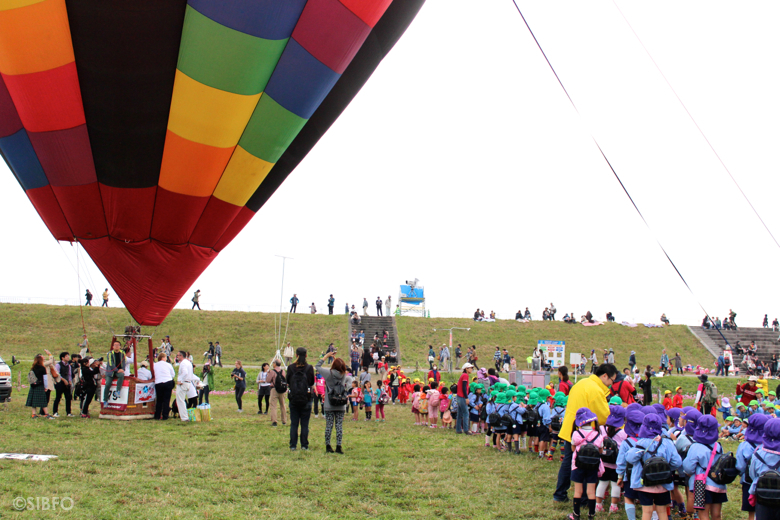 When it is not so windy at the event time of Balloon Fantasia or Kids Day, we sometimes announce that you may enter the game area called the launch site.
The shaped balloons in the Fantasia are very different from competitive balloons. They are bigger and intricately shaped so that they need many ropes to moor and equipment.
In addition, the launch site is dotted with gutters and hollows because it is the riverbed and not leveled the land completely.
Please make sure below to have good times together.
Precaution in the Launch Site (Event Area)
The exit and entrance of the launch site are determined. They depend on the condition at the time and will be announced then. You will be guided by official staffs. PLEASE NEVER ENTER FROM UNFIXED PLACES.
Please refrain from eating, drinking, and smoking inside the launch site. They use burners with the propane gas so that PLEASE DO NOT USE FIRES inside the launch site.
Inside the launch site, PLEASE DO NOT RUN. There are many ropes and equipment to moor the balloons and it is also very dangerous because there are sometimes gutters and hollows on the ground. Please watch your step especially with your children.
When it gets windy in the middle of the event, we may take out of service. Please follow the official's instructions then and PLEASE DEPART FROM THE LAUNCH SITE SPEEDILY. Thank you for your cooperation.
Japanes site
Requests for Safety at the Launch Site in Events
Last Modified: 2017.08.09