Manners for Fun Watching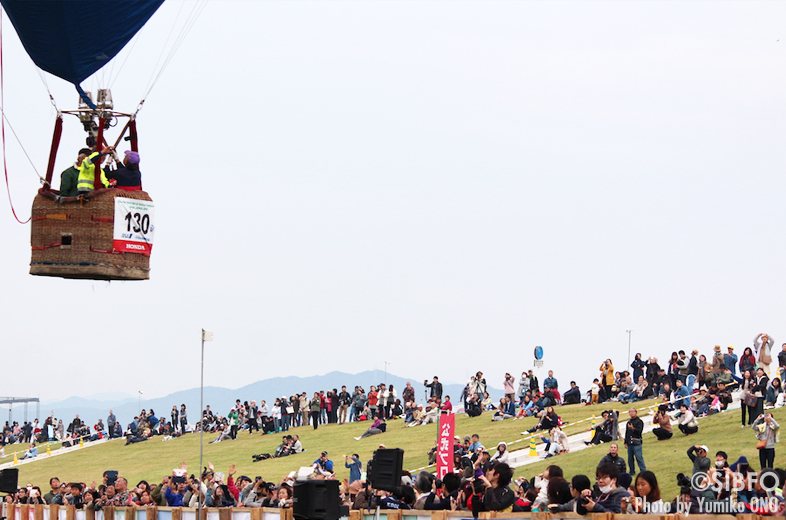 Saga International Balloon Fiesta is one of the biggest sky sports events in Asia. It is held at Kase Riverbed as the main site, and there will be approximately 800,000 visitors and tourists crowded in 5 days during the event period.
We surely hope everyone can have a great time in safe with manners for watching Events below. We would appreciate your understanding and cooperation.
Whole Area
In the all event areas, please refrain from smoking while walking. And also, please do not throw away tobaccos after smoking.
Please bring trashes to the designated area such as garbage stations. Please be sure not to dump illegally .
Since there are so many little children in the area, please do not ride on a bicycle. Please get off from it and move and carry by hand-push with your bike. Thank you for your understanding.
Please be sure to use a leading rope, cart, or carriage for your pet and not to free from it.
In the riverbed, there are some dangerous spots such as bank, stairs, drainage side-ditches, and unpaved roads. Please watch your step, especially if you are with children.
If you are taking cameras, please be careful with your operating lens or telephoto lens. Accidents contacting with cameras and other people (especially children) are often seen while they are devoted to taking pictures.
Setting tripods might be obstructions to passage or view so that please set in consideration of where you set it.
During all events term, SMALL PILOTLESS PLANE called 'drone' or 'multi-copter' are prohibited because of avoidances of any dangers such as sideswipe accident against flying balloons and accidental fall toward visitors.  
Competition Area (Around Main Launch Site)
Please refrain fromsitting on the stairs in the riverbed. Stairs in the riverbed is the only means to go up and down the area. Sitting down on stairs are so dangerous and prevent people's movements.
If you are planning to set a sunshade or a tent, it may will be an hindranse to pedestrians. Please understand with your consideration and refrain from setting on the passageway. While the balloon event are held, we recommend you to strike a tent once so that others can observe easily.
Crews, Event staff and volunteers ADMITTEE ONLY can go inside the launch site. If you go inside without permission, it becomes encumbrances to operate all events. Furthermore, we will announce every time when the Balloon Fantasia, in which anyone can enter, is held.
During the events、pilots drop bags contains sand called 'Marker'. The markers' positions are so important and influence their score results. If it is dropped very close to you, DO NOT TOUCH and LEAVE AS IT IS. And also if there is someone who is about to touch it around you, we will be appreciate your calling attention.
Outside The Venue
Please use the North Parking Lots inside the venue or Temporary Parkig Lots around the venue. Please DO NOT PARK on COMMUNITY ROAD.  
Others
Please care manners of expression when you use photos and movies in SNS such as twitter, FB and blogs.
Last Modified: 2018.10.22