40th Anniversary Events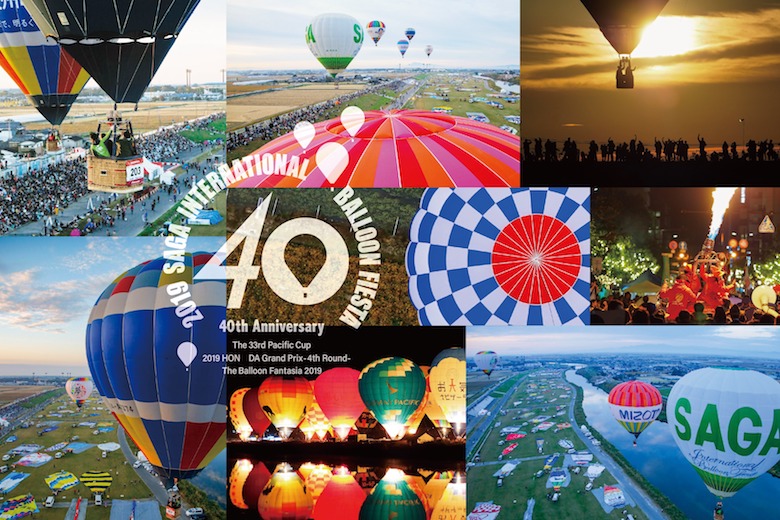 Special Event; Honda Racing Machine Demonstration
Date
Nov. 4, 2019 (Mon.) PM
Place
(Demonstration)The Road along the Launch Area in Kase Riverbed
(Talk Show)Balloon Hiroba Stage, Kase Riverbed Main Area
The Parade of 2019 Saga International Balloon Fiesta 40th Anniversary
There is the special parade to mark 40th anniversary of our event with local high school bands on the main street in down town, Saga City.
Date
Nov. 2 (Sat.) 2019 13:00〜14:00
Place
Chuo Oh-dori, the main street in down town
[Start]Matsubara 2 Junction [Goal] Tojin 1 North Junction唐
Performers
[13:00〜] Saga Shogyo High School Baton Twirlers and Band/ Honda Cars / Saga Seiwa High School Band/ Classic Cars
[13:30〜] Tokyo Disney Resort Special Parade
'The Icarus 5' (the first manned flight balloon in Japan) comes for the first time in our event!
In 1969, Tokyo Icarus Shoten Group made its enverop and gondola. In this time, Icarus 5 will appear as one of the Fantasia Balloons loading the burner manufactured by Exploring Club of Hokkaido University.
Assembly of Honda Grand Prix Host Cities' Balloons
There are five host cities held for Hot Air Balloon Honda Grand Prix, including Saga. Its competition is contended for victory with total score of 5 rounds. 4 balloons from each host cities assemble at Saga International Balloon Fiesta for this time.
Balloons
Rd.1 Tochigi-city Watarase Balloon Race 2019
The Heartland (Fantasia No.121)
Rd.2 Saku Balloon Festival 2019
Hokuto no Ken (Fantasia No.120)
Rd.3 Ichinoseki・Hiraizumi Balloon Festival 2019
The Ougon no Kuni Ichinosek-Hiraizumii (Fantasia No.119)
Rd.5 Suzuka Balloon Festival 2019
The Verdi 3 (Pacific Cup No.36)
Saga Balloon Popular Vote (Tie-up with JR Kyushu, Kyushu Railway Co. )
At ticket booths of JR capital stations in Kyushu, Special Balloon Train Ticket Envelope are distributed widelyas a memory of Saga International Balloon Fiesta 40th Anniversary. These envelopes are to vote which balloon you like and as an application form for lots and presents. Please vote with the envelope at the polling place in the event area and you might win by the lottery and get some local specialties of Saga.
Distribution Term
Oct. 1 (Tue.) to Oct. 31 (Thu.)
※It will end when all the stock has been distributed.
Time to Vote for a Package
Oct. 31 (Thu.) to Nov. 2 (Sat) 2019
※Only for 3 days.
Polling Place
In Balloon Fiesta Event Area(In front of Balloon Information Center around downstairs of JR Balloon Saga Station
40th Anniversary Special Exhibition 'Track of Sky'
In Saga Balloon Museum, Ozora no Kiseki, (Track of Sky) is held as specail exhibition. There are some invaluable references contributed by citizens and media archives. You can enjoy the history, spirits, and efforts of our event.
Date
Oct. 1 (Tue.) 2019 to Nov. 29 (Fri.)
Place
Saga Balloon Museum [MAP]
Time
10:00〜17:00(Last admission: 16:30)
※During Saga International Balloon Fiesta: 7:00〜19:00(Last admission: 18:30)
Balloon 'Memory' Photo Contest
Saga Balloon Museum offers prizes to your memory of balloon photos as the 40th anniversary.
Applicant Guidelines
The theme is 'Memories with Balloons', and it is judged not only photographing techniques but also stories of its work.
Application Period
【Closed】 By Sep. 17 (Tue.) 2019 ※It should be postmarked on or before Sep 17. /p>
Japanese site
Last Modified: 2019.09.21