Balloon Seasons in Saga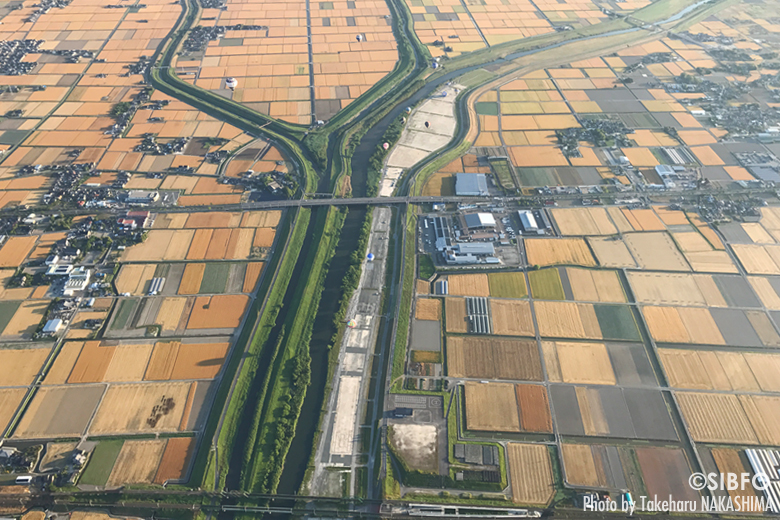 (Flight area view from a balloon in early summer)
The Saga Plains is the one of the greatest flight areas for hot air balloons in Japan. There are 25 teams having practices through the season, and they color sky of Saga.
Flight Term
The flight term of Saga Area is parted 2 seasons considering farms where balloons use as landings.
Season in Early Summer・・・From late in July to late in June
Season in Autumn Winter・・・From late in Oct. to late in Feb. in next year
Saga Plains boasts extensive cultivation of wheat and rice by the double-cropping. The term for balloon flights is limited in early summer, after they finish harvesting wheat and until they irrigate a rice paddy, and in autumn winter, after they finish harvesting rice and until they start cropping wheat.
SAGA BALLOON PILOT ASSOCIATION, which balloon teams in Saga are belonging to, decide the first day and the last day to have flights in each seasons depending on harvesting then.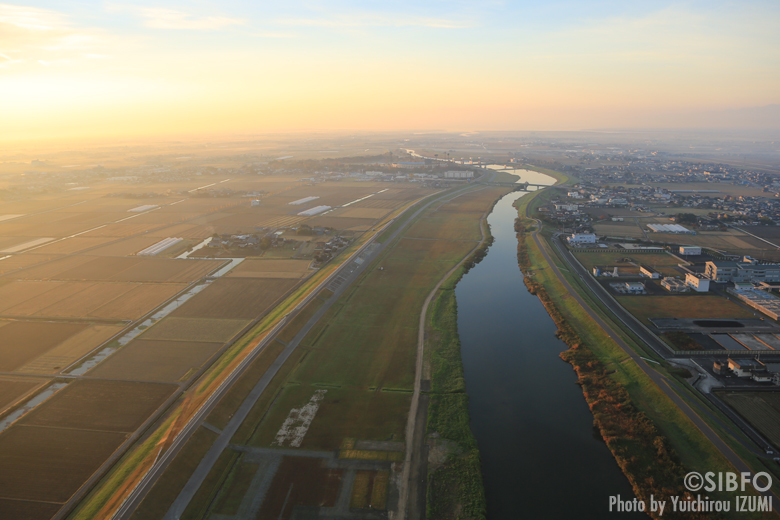 (Flight area view from balloons in autumn winter)
Flight Area
Although Saga plains are the vast land, not all up in the sky can be permitted to fly.
There are the SAGA AIRPORT (KYUSHU-SAGA International AIRPORT) in the south, Japan Ground Self-Defense Force Metabaru Base (Helicopter Troops) in the east, and houses and commercial constructions in the central are of the city.
Therefore, SAGA BALLOON PIROT ASSOCIATION has placed restrictions on the flight altitude and areas of taking off and landing, in addition to the regulations by government. Balloon team have flights keeping safety for themselves and people's life in the region, in capable of flying areas.
What activities do they do?
Balloon teams have training with practice flights and tasks for Saga International Balloon Fiesta and other competitions. They also have trainings for students pilots (pu/t) and crew.
Many of them have practices around Kase Riverbed on Saturdays and Sunday.
Where are they to see?
They often have practice flights around Kase Riverbed, where Saga International Balloon Fiesta is held, however, what kinds of tasks and how they fly are decided by each teams depending on the weather condition then.
They tends to have flights from outside of the riverbed with the northerly wind or the westerly wind, and when easterly wind blows, they often takeoff from the riverbed. Hot air balloons are regulated to have 'visual flight', so that the flight time is limited between sunrise and sunset. They start to prepare for their takeoffs around 6:00 am in early summer season, and 7:30 am in autumn winter season.。
If you are interested in ballooning, would you go to the riverbed in flight seasons?
Japanese site
Last Modified: 2018.10.23