Information
About 2022 SAGA International Balloon Fiesta Outline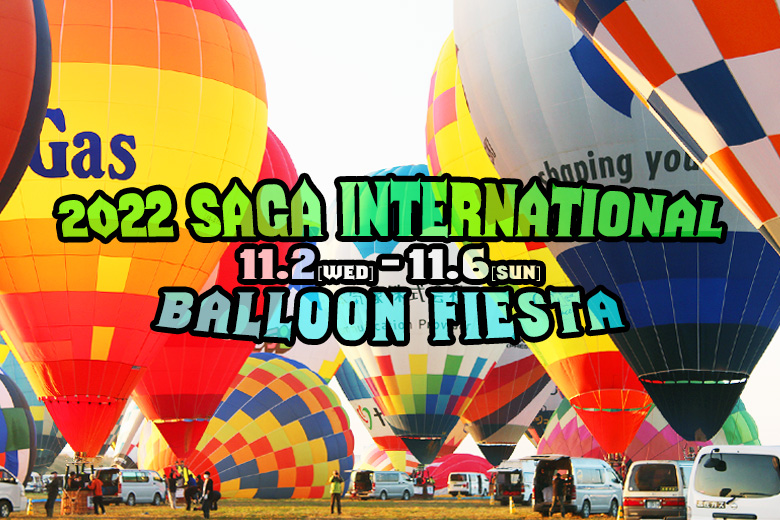 2022 The Saga Balloon Fiesta will be held as the domestic competition. However we are still discussing if it can be certainly held and spectators can enter or not in consideration of COVID situations. We announce about the detail so far as it is the time for pilot entries. The final decision will be in June.
1. Event Scale
・Only domestic balloons, pilots and crew can be participants. Due to the reduction of participants, there will be about 95 balloons for this year's event.
(110 balloons in normal year, 68 balloons in 2021)
① Competitions=About 54 balloons(Only domestic balloons)
The 35th Pacific Cup

 The 38th Japan National Championship

 2022 Hot Air Balloon Honda Grand Prix - 4th Round -

 
② Fiesta=About 20 Balloon(Only domestic balloons)
③ Balloon Fantasia (Shaped balloons)=About 13 balloons 
④ Official Balloons(Sponsors' balloon)=About 8 balloons
2. Time
Nov. 1 (Tue) to 7 (Mon)
※Competitions and Events=Nov. 2(Wed) to 6(Sun)
 ・Nov. 2 (Wed) to 6 (Sun) Competitive Flight ※6(Sun) PM Key Grab Race
 ・Nov. 5 (Sat), 6 (Sun) Nighttime La Montgolfier Nocturne (Night Mooring)
 ・Nov. 7 (Mon) Commendation Ceremony
3. About Spectators
・We will announce whether we can hold the event with spectators or not in June. ・Parking, JR Balloon Saga Station, Stage Events and Umakamon Market, Balloon Fantasia and La Montgolfier Nocturne will be followed the decision, too. Commendation Ceremony may also be rescheduled depending on those situations.
4. About Competitions
 ・GPS loggers are adopted as recordings.  
※We are not recruiting for any observers for this year.
5.About Volunteers
・Since there will be no participants from overseas, we are not recruiting drivers and crew for this year.
・We will announce about recruiting drivers and crew for the Fantasia in July.
・Lost Child Department Staff and other staff recruiting will be also announced in July.
6.About Infection Disease Control
・We will practice steps to avoid infection as needed in our event. We are preparing along the movement.
7.About COVID
・The event may will be scaled down or shorten the length of time due to changing situation of COVID and upon the government request.
Last Modified: 2022.10.17