【Important】2021 SAGA International Balloon Fiesta has been rescheduled.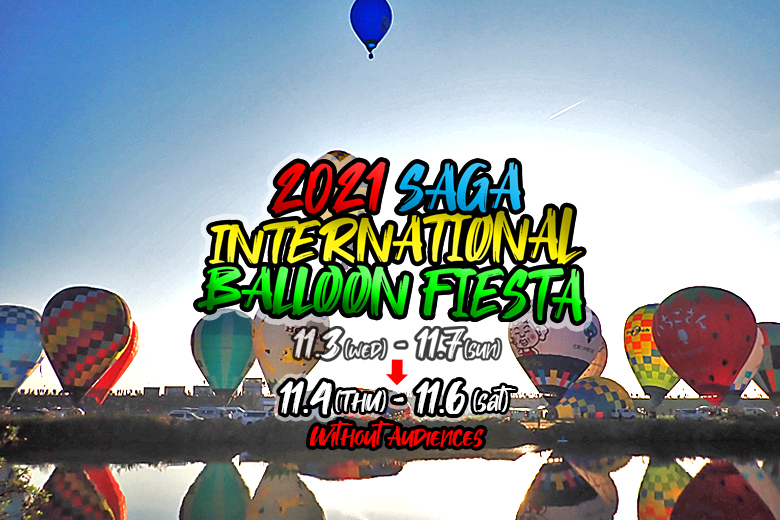 In according with the COVID-19 crisis circumstance, The 2021 Saga International Ballon Feiesta has been rescheduled as follows. We are so sorry to say that any entries from overseas cannot be accepted this year. Only domestic balloons, pilots and crew can be participants, and competitions are held with no spectators. Thank you for your understanding.
New Schedule
・The Shortening of Term
Nov. 4 (Thu) to Nov. 6 (Sat), 2021
・No Spectators
Only competitors and officials can enter the event area.
There will be no parking lots and JR Balloon Saga Station is not open.
・Scale down
  Only domestic balloons, pilots and crew can be participants. Due to the reduction of participants, there will be about 70 balloons for this year's event. (110 balloons in normal year)
・Cancelation of other events
 Balloon Fantasia, La Montgolfier Nocturne and Umakamon-ichi Market are all cancelled.
・Changes of procedure
 No observers are arranged. GPS loggers are used.
More Informations
・All participants are requested to submit a certification of vaccination before the event. If you have not had vaccination till the event, the antigen test will be requested.
・All participants measure body temperature for 14 days before and after the event. This event is held observing the guideline of Japan Balloon Federation.
・The content is subject to change depending on the COVID-19 situation.
Last Modified: 2021.06.18