For News Coverage at Saga International Balloon Fiesta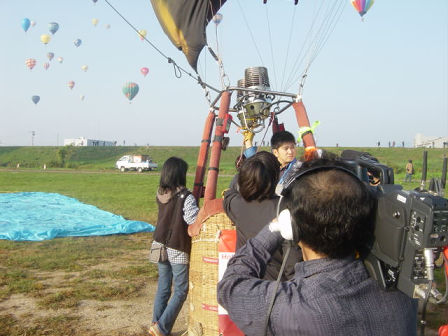 Saga International Balloon Fiesta Organization accommodates news-medias with information and latest news of competitions, such as data and commentaries.
The persons who are planning to take some interviews of pilots and crew and do news gathering activities in the main area of Saga Balloon Fiesta and Competitions need to register as PRESS with our organization in advance.
We ask for your cooperation to do smooth covering and provide information.
Collected data are distributed to people in the press only. Please register and ask below.
Applications and Inquiries
Saga International Balloon Fiesta Organization
Zip Code 849-0937
3-7-2 1F Nabeshima, Saga City
[TEL] 0952-33-3955 [FAX] 0952-33-3977

Attention for Press
Please make sure that you are wearing the PRESS certificate of registration whenever you interview and collect news. Especially in the main area called the launch site, if you are not taking the PRESS certification, we may refuse your requests to go inside even you are taking equipment such as cameras.
Please do not use PRESS certification outside the specified period, do not resister excessive numbers of certifications, and do not transfer the ownership to any others. If you have done news gathering activities off before the competition are closed, please return your PRESS certification to the Press Room.
If you are planning to take photos from an airplane or a helicopter, we need your certain request in advance for ensuring safety between you and balloons.
Please be sure not to obstruct ballooning progress such as inflating and takeoff. (Especially when they are inflating, please stand well out of the way.)
Even if the balloons takeoff or landing in the farm, any riding-in of vehicles are forbidden.
Please do not step into any farms carelessly when you take photos of balloon around there.
Please follow instructions of pilots and promoters.
No permission of any drones, even if it is the purpose for news information. So many audiences are expected to come around the area. Thank you for your understanding for safety.
Press Release
We, Saga International Balloon Fiesta Organization, regularly give press conferences during competitions. Please check the time and place in the paper distributed to the press.
Japanese site
[「佐賀インターナショナルバルーンフェスタ」大会取材について ]
Last Modified: 2018.10.23